Pump inspection
IPG on location
Industrial Pump Group (IPG) offers comprehensive on-site inspection services to assess the integrity of your pump and piping systems. Our experienced technicians perform visual inspections and use advanced technologies to identify potential problems in your system. By analyzing the inspection results, we can then make recommendations for maintenance or repair work to improve the efficiency and reliability of your system and minimize downtime.
Inspection and maintenance on site
Preventive maintenance is important to prevent downtime and possible damage to a (pump) installation. However, sometimes failure of a pump is really unavoidable. In both cases, the IPG technicians are always there for you. We are happy to discuss the possibilities with the customer in order to arrive at the best solution together, whether this concerns: revision in the workshop, inspection rounds or maintenance on location.
Our service technicians can be found at our clients every day. Their task is to ensure that the pumps and pump systems are provided with preventive and corrective maintenance. They investigate malfunctions and then solve them. The mechanics play an important role in the commissioning of equipment and the testing of overhauled and/or new machines.
Maintenance and inspection by our service technicians
All our service technicians (both in the workshop and on location) have years of experience, some of which even have decades of experience in overhauling, inspecting and installing industrial pumps. Every IPG mechanic has various certificates and is familiar with many types of pumps of every brand and size.
The engineers of the Industrial Pump Group can rely on the knowledge of their colleagues at the office, where more than 30 years of pump suspension can also be found, even when on location. In short: the IPG service team consists of experts who are happy to take on a pumping challenge with you.
HAVE YOUR PUMP REVISED
CONTACT US TO DISCUSS THE POSSIBILITIES
The diversity in the types of pumps is enormous. The aforementioned specialists from the IPG overhaul team have sufficient knowledge, resources and strong relationships with various pump brands to overhaul a large number of different types of pumps. IPG overhauls centrifugal, multistage, split case, progressive cavity pumps and perhaps your pump soon?
IPG specializes in, among other things:
Inspecting, overhauling, installing and troubleshooting of:
Horizontal pumps
Vertical pumps
Axial plunger pumps
Submersible pumps
Fire fighting pumps
Wastewater pumps
Screw pumps
Chemical pumps (DIN, ISO, API standards)
Pump paper
Pumping pulp
Self-priming pumps
Vacuum pumps
Multistage pumps
Progressive cavity pumps
On-site inspection rounds
As emphasized earlier, preventive maintenance and inspection of your system is important to keep the business system running for as long as possible without surprises or possible downtime due to wear and tear. "Prevention is better than cure". IPG's service technicians have experience with many inspection rounds, will check all pumps, thrusters and mixers and will neatly issue a report with the findings. Based on this report, we can advise you on the possibilities for maintenance, revision or optimization of your system.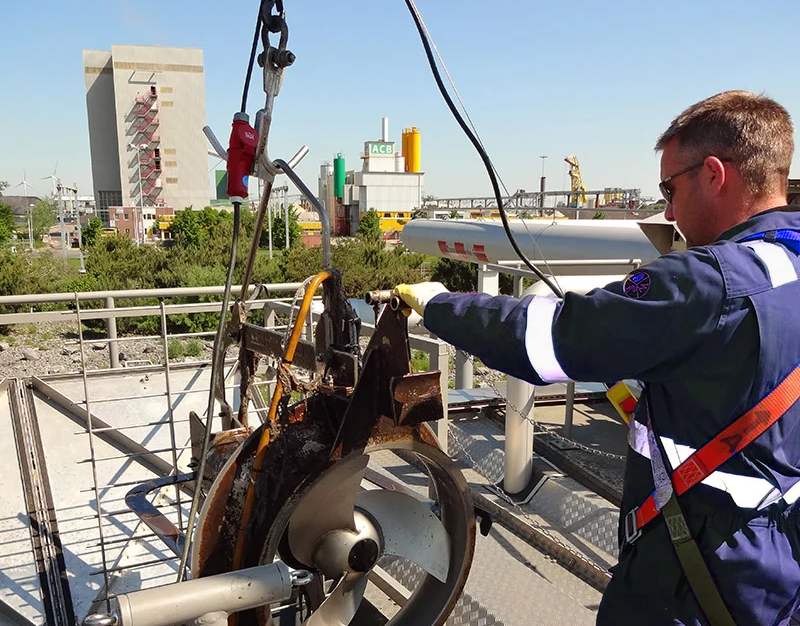 On-site inspection
Frequently asked Questions