We supply industrial pump solutions to countless companies and organizations all over the world, including the chemical industry, food industry, steel industry, government and more.
more than 30 years of experience
Want to save on pumps and overhaul?
Save on service, maintenance and purchase of your pumps
We offer high-quality pumps from the best brands and have a team of experienced technicians who ensure efficient and effective repairs and maintenance. By choosing our professional service and maintenance services, you extend the life of your pumps and minimize unexpected downtime. Contact us today to save on your pumps and related costs.
Do you know which pump you need?
Use our quick order function.
Official dealer of top brands
what we are good at
IPG relieves you in the field of pumps
Industrial Pump Group (IPG) is the perfect partner for all your pumping needs. With more than 30 years of experience in the sale, overhaul and supply of pumps and pump parts, we offer high-quality pumps from the best brands and expert repair and maintenance services for all types of pumps. Our team of experienced engineers work closely with customers to provide the best solutions to meet their unique requirements and budget. At IPG we guarantee quality and reliability, which makes us your ideal partner for pumps.
For advice, the purchase or installation of your new pump, you have come to the right place at the Industrial Pump Group Netherlands! The experts at IPG can help you select and/or supply the right pump.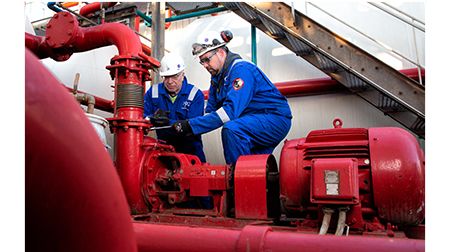 With more than 30 years of experience in pumps and a team full of specialists, IPG is the overhaul partner for your pump overhaul. Whether the revision must be carried out on location or in one of the workshops of the Industrial Pump Group, there are various options! From large to small pumps.
Even if you already own the pump you want, the Industrial Pump Group can help you keep your system running. Good maintenance is essential for your pump, parts are often required for this. Through strong relationships with many brands, IPG can provide you with many (original) parts.
Committed pump experts
WHY IPG
The service of IPG Nederland extends beyond the sales process: we also offer support after the sale. Our qualified technicians are trained and have many years of experience and can be deployed for projects at home and abroad.
INDUSTRIAL PUMP SPECIALIST IPG
Pumps come in many shapes and sizes. Finding the right pump is therefore quite complicated. As a supplier of industrial pumps, Industrial Pump Group Nederland B.V. great value for independent, tailor-made advice. In this way we build a long-term relationship. Despite our cooperation with reliable brand partners, we always remain critical in the products we supply. We are happy to help you make the smartest choice.